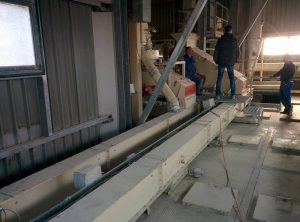 We firmly believe in a post-sales service and think it's a fundamental added value.
To have efficient machinery monitored at a minimum cost, guarantees a reduction of arrest of the lines.
We consider the client our partner and thus his difficulties become ours. That's why we search for efficient solutions and intervene fast, seriously and correctly.
For some years we offer, in Italy and the surrounding countries, an innovative service called PROGRAMMED MAINTENANCE: every half year (or another time frame, as you wish) our technician comes, at contained costs, at your plant in order to verify the condition of the plant and of your machines, whether or not they are ours or from another brand, to prevent breakage and thus useless and avoidable production arrests.
This service includes the delivery of revised used spare parts and the pick up of spares to be revised.
We intervene on site, and prefer that our technician works side by side with one of the Client's technicians, that way costs are contained and at the same time instruction is given on site.
Furthermore, clients who participate to the PLANNED MAINTENANCE PROGRAM are privileged with dedicated discounts.
We moreover revise, at our factory, machines and flat- and ring pellet mills, with belt- or gear transmission.