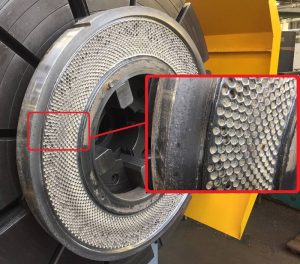 We repair dies, ring- and flat-, rollers, roller shells and other wear parts for all pellet mills, like bell groups, covers, rings, basins etc.
Our experience allows us to suggest useful information to our client in order to improve productivity of the machines and plants.
Furthermore our innovative service called PROGRAMMED MAINTENANCE foresees the pick up of wear pieces to be revised and the delivery of those revised and the verification of the correct functioning of the plant.