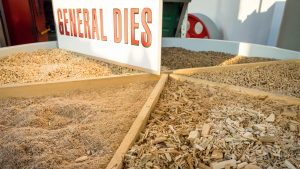 The pelleting line finds its main applications where it is necessary to reduce the material's volume.
The product that enters the pellet mill must have fine granulometry and be uniform and a moisture content generally not more of 15%.
The compression of the product during pelleting adds value to the product itself increasing its specific weight, making easier its transport and handling, requiring smaller storage spaces.
Main sectors of application
Feeds (feeds for cattle, poultry, pigs, sheep, rabbits, ostriches, fish, shrimp and other animals);
Sugar-industries (sugar beet pulp);
Producers of alfalfa -, straw-, hay-, forage- pellet;
Urban solid waste;
Compost (poultry and other animals manure);
Organic and organo-mineral fertilizers;
Food and other waste (expired food; remains of food etc.);
Milling industry (pelleting of bran, bran and cereals mixtures, milling by
products);
Colza;
Waste paper;
Waste plastics;
Sawdust, shavings, wood cuttings, forestall waste, pruning, wood from dedicated crops;
RDF Refuse Derived Fuel;
Chemical products;
Poison for snails;
Dust products;
Graphite;
sludge;
orange and/or lemon hulls / citrus pulps;
grape hulls;
olive husks, colza , soy-bean, sunflower, corn and other waste of oil mills;
Hops (waste of brewery's processing)
Meat and fish flour etc;
Agroindustry and biomasses by-products.
Phases of the process
The main stages of a standard pelleting line are:
Phase A: Pelleting
Phase B: Cooling
Phase C: Possible crumbling
Phase D: Sieving